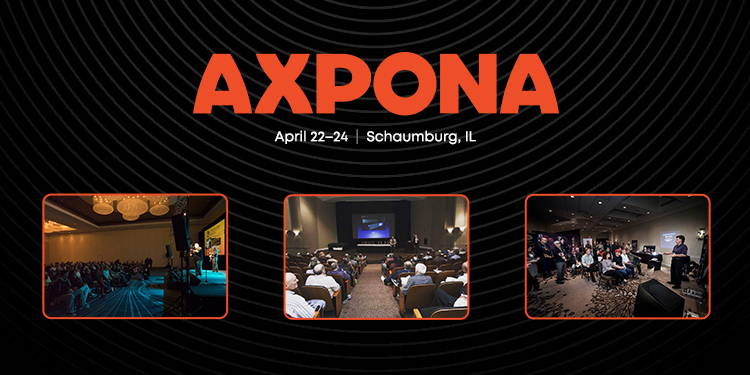 Music lovers are rejoicing because AXPONA will return for 2022. After skipping the in-person editions in 2020 and 2021 due to the pandemic, Audio Expo North America will be held April 22 – 24 at the Renaissance Schaumburg Hotel & Convention Center in Schaumburg, Illinois.
The mission of AXPONA is to hold the largest annual gathering of audio enthusiasts, music lovers, audio dealers, manufacturers, and distributors in North America. The event will feature representatives from the world's top audio brands, showcasing their latest and greatest gear.
The activities will include seminars, exhibitions, more than 100 listening rooms, and a Record Fair with sections devoted to new vinyl and collectible vintage LPs.
AXPONA will be held across 10 floors, where attendees can audition a multitude of products, including turntables, amplifiers, loudspeakers, headphones, streamers, cables, phono cartridges, accessories, and numerous other categories of audiophile gear.
The event also will include after-hours concerts by renowned blues artist Toronzo Cannon (April 22, 8pm) and acclaimed singer-songwriter Lori Lieberman (April 23, 8pm).
"AXPONA has been an exciting labor of love since the event came to the Chicago area in 2013," said Music Direct Brand Ambassador Bes Nievera. "I'm very excited to see old friends, meet some new attendees, and chat with industry professionals from the best names in audio. Over the past two years, Music Direct and many of our brand partners have conducted 'virtual' events, which have been successful. But nothing compares to the immersive experience of being in the same room with great audio equipment."
The AXPONA mission statement conveys support for "the growth of the high-end audio industry by cultivating a passionate community and promoting the enjoyment of high-fidelity sound."
Information on purchasing tickets is available at the AXPONA website. Attendees who buy a two- or three-day pass will receive a 2022 collectors' badge. Music Direct subscribers can save 10% on three-day tickets by applying the coupon code MDSave10. (This discount is only valid on new purchases and applies only to regular three-day tickets.)
AXPONA organizers have expressed a profound commitment to the safety of exhibitors, attendees, partners, and staff amid the COVID-19 pandemic. Health and safety guidelines, including information about masks and vaccination status, are posted on the AXPONA website.
The AXPONA show hours are 10 a.m. to 6 p.m. on April 22 – 23 (Friday and Saturday), and 10 a.m. to 4 p.m. on April 24 (Sunday). The Renaissance Schaumburg Hotel & Convention Center is located at 1551 N. Thoreau Drive.