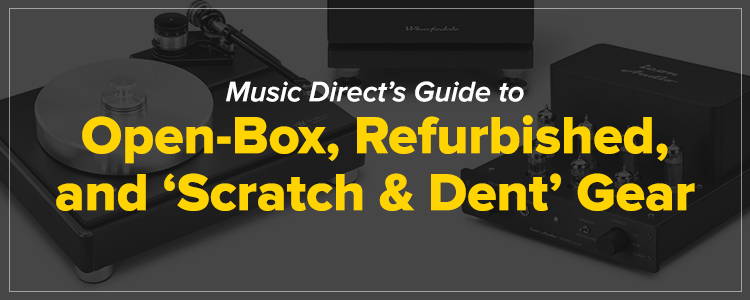 Guide to Open-Box, Refurbished, and 'Scratch & Dent' Gear
At Music Direct, we're always working hard to give our customers the best deals in audio, including the latest products on the market. Because of our extensive business relationships throughout the industry, many of our brand partners have approached us with great deals on closeouts, as well as products that are classified as B-Stock, or Factory Refurbished. Additionally, products with significant blemishes are listed on our site as "Scratch & Dent" gear. All these product categories present opportunities for tremendous deals.
So, here's a primer on what to know about each category and how to select the right gear for your needs.
Open-Box Gear: What It Means
If you have to choose between buying a new product or an Open-Box version of the same piece, keep in mind that the Open-Box model may be your best bet overall, in terms of cost savings and quality. Products listed as "Open Box" typically are the result of a recent customer return under our industry-leading 60-day satisfaction guarantee, where the product is deemed to be in saleable condition, and it was returned in its original packaging. Open-Box products also include select components acquired from our brand partners, such as product samples or gear used in recent audio shows or promotional events.
Among the advantages of buying Open-Box gear: You may save plenty — if you don't mind a product that was previously opened for something as simple as one of our Music Direct product review videos, or a recent in-store demo, or gear displayed at an audio show. Potential downsides are that this product is not a new, factory-sealed item; it might have a minor cosmetic blemish; or it might be subject to a limited, shorter-term warranty. If these issues seem problematic to you, consider spending more to get a new, factory-sealed unit with the full manufacturer's warranty.
Factory Refurbished Gear: What It Means
Whereas Open-Box gear mainly consists of "near-mint" components, factory refurbished gear is in a different category. Often referred to as B-Stock, this gear offers attributes that may, for the price, deliver excellent, long-lasting value. What makes refurbished gear a good option is that the product is the result of a professional, manufacturer repair. The gear is then carefully tested to meet the manufacturer's standards, including any recent firmware updates, or other needed protocols. These products may exhibit mild scuffs or other cosmetic blemishes that do not detract from the functionality or operation. The gear's accessories vary by manufacturer. Additionally, this gear might not be packed in its original box or packing.
If a factory refurbished product appeals to you, get ready to enjoy a great value, knowing that the component is not in "picture-perfect" appearance. Like Open-Box products, refurbished gear is subject to limited warranties and vary by model and/or manufacturer. As always, if this scenario isn't agreeable to you, then new or Open-Box gear would be a better fit for you.
'Scratch & Dent' Gear: What It Means
Even though the vast majority of people in the industry do their very best job of shipping sensitive components, it's still possible that gear will arrive slightly damaged. Here at Music Direct, we respond to those situations by offering that gear at a significantly lower price. This gear is fully operational, inside and out. This category often presents an excellent opportunity to save money on a specific component you've been looking for.
"Scratch & Dent" products were returned with scratches and/or surface-related damage that would not meet our standards for sale as an Open-Box item. These items have moderate to severe cosmetic damage but are fully functional and include full (or limited) manufacturer warranties and all original accessories (or their equivalents). The outer boxes may have cover-up labels, patches, and/or extra layers of tape from repacking. Some items have been repackaged in non-original packing materials.
These items are working products, each carefully vetted by our Returns Department team, and prepared for immediate sale. Upon request, we can send photos of a Scratch & Dent item, and your Music Direct consultant will follow-up to answer questions and facilitate the sale. The downside? Aesthetic issues could affect your enjoyment of the component. So, if a scratch down the cabinet of a speaker or on the front plate of a component isn't to your liking, then aim high and get the Open-Box or factory new version.
As always, your Music Direct Audio Consultant can help you decide what's the best option, so give us a call.