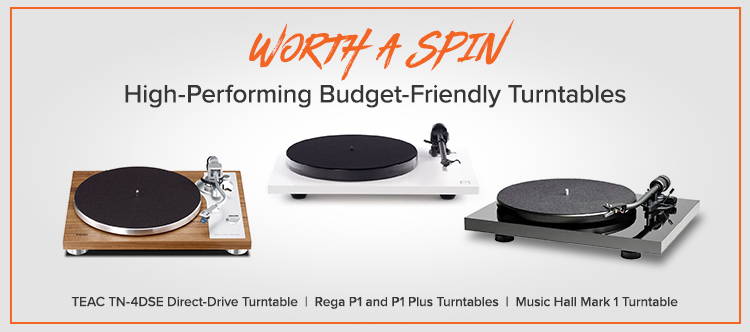 Worth a Spin: High-Performing Budget-Friendly Turntables

There's never been a better time to get a turntable that sounds great — and that doesn't dent your wallet. High-end turntables increasingly take their cues from their more sophisticated siblings and will get your vinyl dancing to a new beat. What are some of the best options? Music Direct Brand Ambassador Bes Nievera gives you the lowdown on three of the newest models.
Music Hall Mark 1 Turntable
WHY WE LIKE IT: Mark 1 includes a high-quality S-shaped tonearm, headshell, and factory-mounted Ortofon moving-magnet cartridge intentionally selected for this deck. Tracking force can be set with the supplied Stylus Force Gauge (helpful hint: take your time, as the level needs to be even on both sides when calibrating the needle's 1.75-gram measurement). And the Mark 1 magnetic anti-skate dial is more accurate than the old-school, easy-to-lose anti-skate weight found on many other 'tables — plus, it provides more stable alignment between the grooves.
HOW DOES IT SOUND: Mark 1 gets high marks. Its s-shaped arm provides excellent tracking for records that may be pressed slightly off center while ensuring excellent left-center-right reproduction. I really like the deck/cart's rich detail. Midrange clarity and bass punch come through to pleasing degrees when spinning jazz classics or the latest pop from the likes of Taylor Swift.
MATCH IT WITH: Get any entry-level amp from Marantz, Rotel's A14 models, and KLH Model 3 speakers for a smoother sound. Or consider Dali Oberon for more punch. You can also use Mark 1 as a single-source solution with powered speakers that have an onboard phono input, like Klipsch The Fives, Sevens, and Nines.
Rega P1 and P1 Plus Turntables
WHY WE LIKE IT: What's not to like about a Rega? With its sleek look, Planar 1 fits in just about any environment courtesy of three finish options (Walnut was just added for the 2023 models). The RB-110 Series tonearm and factory-mounted Carbon MM cartridge (designed for Rega by Audio-Technica) make for a seamless match. Your records also get a nice place to spin (check out the phenolic resin platter and spider subplatter) while Rega's EBLT belt translates to improved speed as well as lower noise between those parts and the 24-volt DC motor. Set up is a breeze: Just push the supplied counterweight all the way in, connect P1 to your stereo, and you're off to the races.
HOW DOES IT SOUND? I've always enjoyed Rega turntables paired with other Rega components, but the appeal of the British-made P1 is just how well it sounds with so much other gear. It's unabashedly musical from top to bottom, with crisp top-end detail, a clean midrange, and taut bottom end. P1 shines when tackling complex cuts from the likes of Roisin Murphy and Makaya McCraven, but I also appreciate it with quiet fare such as tracks from the always-perennial Bill Evans library.
MATCH IT WITH: Rega's electronics always seal the deal, but if you pair P1 with a Leak, Marantz, Denon, or any other standout entry-level amp with a phonostage (Planar 1 Plus offers an onboard phono preamp based on Rega's Fono circuitry), you'll add some tonal notes that are a far cry from Rega's formidable sound. I'd also match P1 every day of the week with Wharfedale Denton or Linton speakers. JBL L82 and L52 speakers also nicely round out P1's musical ethos.
TEAC TN-4DSE Direct-Drive Turntable
WHY WE LIKE IT: A devotion to precision and attention to detail make TEAC stand out from the pack. Starting with the company's brushless DC motor featuring crystal-locking speed control and a computer-controlled feedback circuit, TN-4D-SE plays with a stable rotation that complements its beautiful aluminum platter. The result: speed accuracy on par with turntables that cost twice as much. The sonics are also aided in part by the inclusion of a high-performance s-shaped tonearm with knife-edge, pivot-point bearings. This design, created in cooperation with Japan's SAEC factory, yields a dynamic sound with excellent resolution. And did we mention TN-4D-SE comes with an onboard phono preamplifier?
HOW DOES IT SOUND: Mated with Sumiko's Oyster MM cartridge, this deck responds to complex content with athletic prowess. It also reproduces finely detailed recording with grace and elegance. As for its direct-drive operation? Having sold decks like this since the early 80s, I can definitively say that this 'table gets it right. Cogging issues that used to sound mucky have practically disappeared in favor of enjoyable cohesiveness.
MATE IT WITH: TEAC's own components, or amps from Yamaha, Rotel, or Cambridge Audio. What about speakers? Consider entry-level models from Focal, Revel, and KEF. All will breathe new life into your music when matched with this deck and the suggested electronics.
Need more information on these turntables or any of the other models we carry? Our audio consultants can guide you every step of the way! We're just a phone call away, at 312-433-0200.