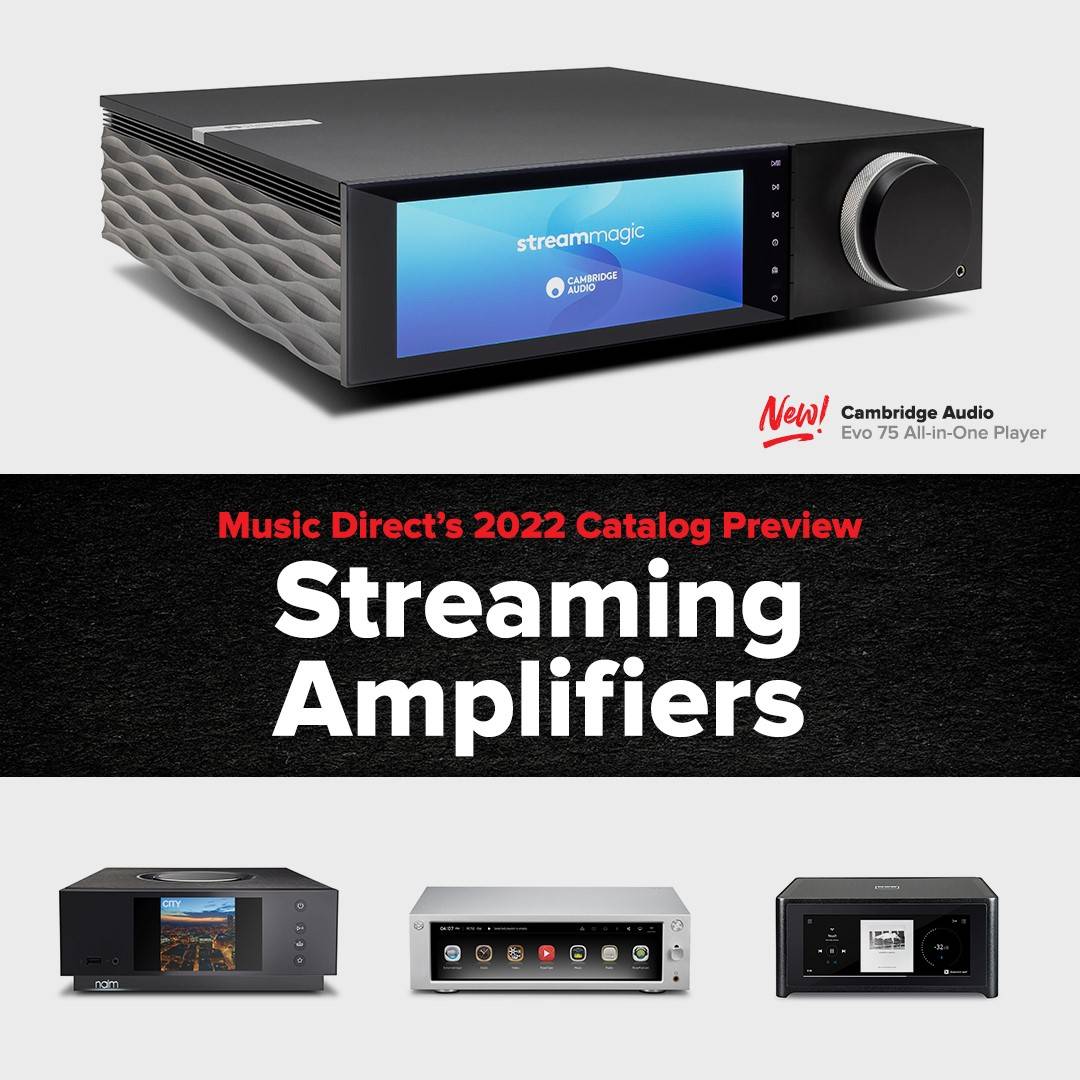 2022 Catalog Preview: Streaming Amplifiers
We make no bones about it: Streaming amplifiers have become a huge category for Music Direct. They were previously considered "rough around the edges" due to limits on what you could use with them, as well as their rapid obsolescence in the wake of advancing technology. Today, it's a different story. Among the reasons are intuitive software and apps, improved screens for readability, and, above all, stellar sound quality to bring us closer to the music we love.
You'll find a diverse array of streaming amplifiers — including the hard-hitting sonic superstars described below — in Music Direct's new, 2022 catalog, now arriving in customers' mailboxes.
Naim is no stranger to Music Direct customers. In fact, when Naim's lifestyle-meets-audiophile Mu-So was featured in our catalog a few years back, both our staff and customers were elated with its sleek look and fantastic sound. So, when news of Naim's Uniti lineup was announced, we just had to get our hands on the new gear. The Uniti Atom Streaming Media Player with HDMI Board extends Naim's legacy of building reliable, high-quality gear that appeals to both the eyes and the ears. A robust, 40-watts-per-channel Class AB power amp fuels the music, and Atom's impressive onboard tech includes Roon-Ready architecture, and streaming options for Spotify, Apple AirPlay 2, TIDAL, and Qobuz. Bluetooth capability also illustrates the flexibility of the Atom, which you can operate via the true wireless remote control and Naim's convenient app. (For headphone lovers, a related product, Naim's Uniti Atom Headphone Edition, can transform any space into your own audio cocoon.)
Other compelling gear that graces the pages of our 2022 catalog includes NAD's M10 V2 BluOS Streaming Amplifier and the C 700 BluOS Streaming Amplifier. Each model ups its game with improvements to ensure that it is even more successful than its forbearers. Already famous for its compact chassis and 100 watts-per-channel amplification, the V2 is designed with updated gain algorithms to ensure compatibility with a variety of speaker designs. Plus, it offers the benefits of Dolby Surround, making it an expandable home theater solution when you add BluOS surround-enabled wireless speakers. NAD's stunning C 700 stands out from the crowd because it is simple to operate, has an easy-to-read, 5-inch, high-definition color display screen, and is fueled by 80 watts-per-channel HybridDigital UcD amplification.
Outstanding British manufacturer Cambridge Audio has won rave reviews for its Evo 75 and Evo 150 All-in-One Players, thanks to their convenient operation and pristine performance. The Evo 75 employs Hypex NCore amplification, and it offers an easy-to-read screen that showcases album art and info, but it also harnesses the power of StreamMagic to link with services like Qobuz and TIDAL. Its Bluetooth connectivity with headphones makes this easy-to-hook-up champion a great option for fans who want to enjoy music on their own terms.
Evo 150 flexes its muscles with twice the power (150 watts-per-channel into 8 ohms), plus a coterie of inputs, including a moving-magnet phono stage, XLR and RCA Line In options, and plenty of digital audio integration. This slightly larger box can power two pairs of speakers without any hesitation or loss of fidelity.
Finally, HiFi Rose is a new name on the scene, but one that is swiftly winning impressive accolades, and one whose products we are proud to carry. HiFi Rose has made a big splash with its 201E Integrated Amplifier & Network Streamer. It offers remarkable flexibility, with an innovative, smartly engineered 8.8-inch touch screen, allowing users to easily enjoy TIDAL, Qobuz, Spotify, and other services. This 50 watts-per-channel, Class D design is all about accurate, authoritative playback. Throw in capability for Ultra HD 4K video playback (on a separate monitor), the company's curated RoseTube playlists, and the vast content on YouTube Music, and it's easy to see how the 201E is a rock-solid component for the next generation of all-in-one player/amps.
The products described above represent only a sliver of what's between the pages of one of the most beautiful catalogs we've ever published. If you're not on our mailing list, call our team at 800-449-8333 to request a copy of the Music Direct 2022 catalog. Or, you can request one by visiting our home page.